Barbara McIntyre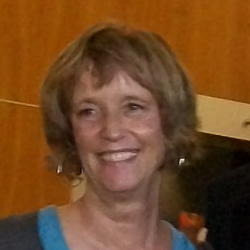 Art Therapist Adjunct Faculty
Traverse City Online Classes or NMC University Center
Office Hours: (231) 929-9427 (313) 577-5469 Before and after class.
(313) 577-5469
(313) 577-4091
---
Education
Dr. McIntyre holds a Ph.D. in art therapy from the Union Institute, ATR-BC through the Art therapy credentialing board, and LPC through the State of Michigan.
Biography
Dr. McIntyre is a board certified art therapist and licensed professional counselor who has specialized in loss and grief issues. She started the first art therapy program in hospice care where she worked for 28 years. Dr. McIntyre is currently in private practice specializing in grief, trauma, PTSD and anxiety for children, teens and adults. Dr. McIntyre utilizes eco-art therapy and art therapy in her practice. She facilitates a grief support program at the Grand Traverse Children's garden each summer for families dealing with loss. She has published several articles on art therapy and grief and a children's book, Jungle Journey; grieving and remembering Eleanor the elephant. With over 25 years of art therapy experience, Dr. McIntyre has worked with many populations including, hospice, community mental health, special education, nursing homes and private practice.
Responsibilities
Adjunct Faculty
Teacher Education
Art Therapy Education
Academic Interests
Dr. McIntyre holds interest and continues research in ecopsychology and applications in art therapy.
Area of Expertise
Dr. McIntyre has areas of expertise in art therapy and grief, ecopsychology and art therapy with children and adolescents.
Research Interests
Eco-Art therapy, Doll making in therapy, and children and grief are current research interests of Dr. McIntyre's.
Community Engagement Activities
Dr. McIntyre has been a volunteer with the Children's Garden Program of Traverse City for ten years. This involves developing gardening opportunities for youth and their families throughout the region. She is a member and volunteer of the Traverse City State Theatre. She is also an active volunteer for the Traverse City West Sr. High School Music Program.
Publications
Jungle journey; grieving and remembering Eleanor the elephant
2000
Jungle journey; grieving and remembering Eleanor the elephant
The use of creative art therapies for youth in crisis
Art therapy with bereaved children
An art therapy group for bereaved youth
Art therapy with bereaved youth
1990
The journal of palliative care, center for bio ethics
6(1)
Art therapy in hospice care