Lakina Moseley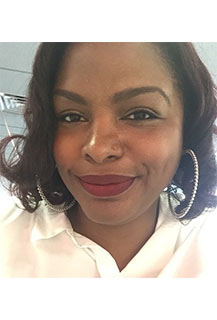 Adjunct Faculty
---
Education
DHEd - Doctorate in Health Education - A.T. Still University
MAT - Masters in Teaching - Wayne State University
BS - Bachelors in Exercise Science - Wayne State University
NASM-CPT, CES - National Academy of Sports Medicine Certified Personal Trainer and Corrective Exercise Specialist
LGI - Lifeguard Instructor - American Red Cross
WSI - Water Safety Instructor - American Red Cross
First Aid, Cpr, LG, AED - American Red Cross
Biography
Lakina Moseley, DHEd, is a physical educator for Detroit Public Schools and educates her students on the importance of being physically active by providing them with a well-rounded program. She has been an educator for 13 years. She also teaches personal training certification courses to aspiring trainers at Monroe county Community college.

Dr. Moseley is the owner and employee of Destination Fitness, a company that provides individualized personal training programs to clients at their home, office, or gym. She holds a bachelor's degree in kinesiology with a health minor and a master's degree in the art of teaching specializing in secondary education from Wayne State University. She also holds a doctorate in health education from A.T. Still University. She is a nationally certified personal trainer and corrective exercise specialist through the National Academy of Sports Medicine with over 14 years of experience.
 
She currently lives in Detroit Michigan with her husband Rondall. In her spare time she enjoys traveling, exercising, outdoor activities, and reading.
 
Responsibilities
 Adjunct Instructor for the Division of Kinesiology, Health and Sport Studies
Area of Expertise
Exercise and Nutrition
Physical Education
Health Education
Aquatics
Research Interests
Obesity Prevention and Treatment 
Physical Activity and Nutrition Behavioral Intervention
Exercise Motivation and Adherence  
Courses taught
KIN 6320 - Fitness Assessment and Exercise Prescription 
KIN 6100 - Methods of Group Exercise
HE 5440 - Mental Health and Substance Abuse