Silverenia Q. Kanoyton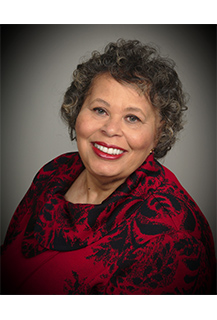 Assistant Professor (Research) - Administration & Organizational Studies
363 Education
Office Hours: By Appointment.
(313) 577-0210
(313) 577-1693
---
Education
Doctorate of Education:  

Wayne State University, Detroit, MI  2002
Major: Educational Leadership and Policy Studies - Cognate Sociology.

Master of Arts:  

Eastern Michigan University, Ypsilanti, MI  1972
 Major: Social Foundations

Baccalaureate:                 

Hampton University, Hampton, VA   1969
Major: History Education  Minor: English
Biography
Dr. Kanoyton is an assistant professor of research and director of several grant programs at Wayne State University. Her research focuses on increasing undergraduate student acheivement and graduation for academically and economically disadvantage students.  She is also interested in minority transfer from community colleges to baccalaureate institutions and undergraduate students persuing STEM degrees.
Dr. Kanoyton has held leadership positions in education, city, state, federal goverment, business, and media.  She has also been a member of the Michigan State Board of Education. Dr. Kanoyton taught several years in the Detroit Public Schools and over twenty-four years at the university level.   
Responsibilities
Dr. Kanoyton is the principal investigator and director of several State of Michigan grant projects including Unversity Bound and Mission Possible: Graduation.  She is also co principal investigator of a National Science Foundation grant, titled Center for Advanced Automotive Techology (CAAT). These projects are designed to enhance student persistence through graduation and student transfer from community colleges to baccalaureate granting insitutions. 
Academic Interests
Dr. Kanoyton current research focuses on the theories and practices for supporting first generation and academically and economically disadvantaged students both in community colleges and baccalaureate institutions.
She is also interested in minority students majoring in STEM fields.
Area Of Expertise
Student Success
Student Persistence through Graduation
Student Transfer
Student Acheivement
Minority student STEM Acheivement
Student Transfer
Courses Taught
EHP 7600 - History and Philosophy of Education
Stucture of American Education
Community Engagement Activities
2005 - Present        American Red Cross Southeastern Michigan Chapter - Executive Board Member
2013 - Present        Anthony Wayne Society Heritage - Member
2010 - Present        Anthony Wayne Society - Member
Awards & Honors
2017
2017 Women of Excellence